5 reasons why Africa is not ready to meet its own security needs – yet
Two decades have passed since the end of apartheid in South Africa – the final dividing line with the colonial era. In that time, the continent's leaders have steadily built new regional and Africa-wide economic and security structures. This effort may well be helping economically. But joint African military deployments have yielded only fleeting success in the continent's worst hot spots.
Africa's experiment in a regional approach to security is serious and laudable, but it will take time to build credible capacity. In just two weeks French troops halted and pushed back extremist advances in Mali in January 2013, whereas West African leaders were unable for nearly a year to mobilize a regional force.
The attacks by Islamist insurgents on US outposts in Benghazi, Libya, in September 2012 and at a gas plant in Algeria in January 2013 expose several reasons for persistent security weakness across Africa. Here are five reasons why Africa is not ready to meet its own security needs – yet.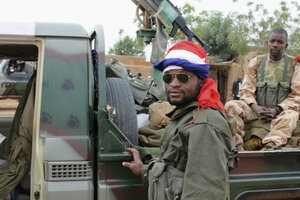 Adama Diarra/Reuters
1.

African Union needs better member contributions

The multinational forces of the regions and of the larger African Union require financial and personnel contributions from the member states. Both are missing in sufficient supply. The majority of sub-Saharan countries are still among the world's poorest. Many simply cannot afford to honor their pledges of dollars and soldiers to regional peace efforts.

West African leaders have been talking about sending a regional force to Mali since a coup d'état last March. They are still looking for funding.