5 factors for peace in Afghanistan
Given that Afghanistan has been in a state of war for nearly 35 years, only a broad-based reconciliation can resolve the fighting. Peace talks are a vital part of that process. Here are five factors necessary to achieving a sustainable peace in Afghanistan.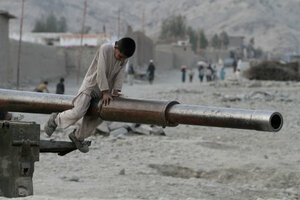 Rahmat Gul/AP
1.

All Afghans must be represented

All Afghans need to be represented in peace talks, whether those participants be the government, insurgent fronts, or credible political and religious leaders. Equally crucial are respected civil society actors, who are emerging as a significant third group.

There is also a whole generation of young Afghans – 60 percent of the population is under the age of 25 – whose aspirations have little to do with the former jihadists, the Taliban, or the warlords. They should have a say.