4 ways Chuck Hagel can improve cyber security
Newly sworn-in Secretary of Defense Chuck Hagel survived a bitter confirmation process. For weeks, those opposed to his nomination fixated on comments he made more than a decade ago. Although Mr. Hagel's road to the Obama cabinet was focused on the past, his tenure in office will focus on preparing the military for the threats of the future. Cybersecurity is one area that will demand his attention.
A recent National Intelligence Estimate concluded that the United States is the target of a massive cyber-espionage campaign that experts estimate costs US businesses tens of billions of dollars per year. Secretary Hagel must guide the Department of Defense through a few key challenges to better secure the nation's cyber networks.
His focus at the Pentagon should be on these four key areas.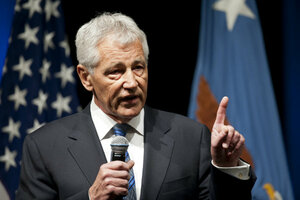 Cliff Owen/AP
1.

The status of US Cyber Command

Cyber Command – which organizes the military's cyber resources and synchronizes cyber operations – was established in 2009. It exists as a sub-unified command under US Strategic Command, one of the Department of Defense's nine Unified Combatant Commands. Hagel will have to evaluate Cyber Command's maturation to date and determine if it warrants a status elevation to a Unified Combatant Command.

Hagel will also need to decide on Cyber Command's leadership structure. Currently, General Keith Alexander, command of US Cyber Command, is also serving as the director of the National Security Agency. Hagel must ask if it continues to be necessary and appropriate to have a military command and an intelligence unit under a single line of control.