3 questions to ask about US drone policy
The white paper released in Feb. 2013 detailing the Obama administration's policy on the use of drones for targeted killings has stirred plenty of controversy. Serious questions about the policy came up again during the Senate confirmation hearing for new CIA director John Brennan. And Sen. Rand Paul (R) of Kentucky drew attention to concerns about the constitutionality of certain drone strikes with his 13-hour filibuster on the Senate floor, delaying the vote to confirm Mr. Brennan.
White House spokesman Jay Carney has defended the drone policy, asserting after the February memo was released: "These strikes are legal, they are ethical, and they are wise." But rather than closing the debate, that statement frames the three essential questions Americans should be asking about US drone policy.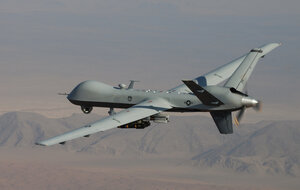 Lt. Col.. Leslie Pratt/US Air Force/AP/File
1.

Is it legal?

Legal justification is blurred by two competing frameworks: the law of armed conflict and the criminal justice approach.

On the one hand, the Obama administration has embraced the criminal justice model, moving away from the language of the "global war on terrorism" and looking to try 9/11 conspirators in civilian courts. On the other hand, by engaging in executive action to target and kill enemies of the state, Mr. Obama has embraced the core doctrine of the war approach, which bypasses the legal due process of the criminal justice system.