Five ways American can save water through food choices
The United States is one of the world's biggest users of water: An American who takes a five-minute shower uses more water than the typical person living in a slum in the developing world uses all day. And water resources in the US are shrinking. In the last five years, there have been water shortages in almost every part of the country, including the worst drought in at last 25 years, which hit 80 percent of the country's farmland in 2012. Even worse, the damaged land won't fully recover this year, and at least 36 states are expecting local, regional, or statewide water shortages, even without drought.
The Natural Resources Defense Council expects water scarcity to affect the American South, West, and Midwest the most. Fourteen states in these regions already have "extreme" or "high" risk of water scarcity. Arizona, Florida, Idaho, Nevada, and Texas face the most danger because they are expected to see some of the largest increases in population by 2030. Water scarcity is also about more than lack of water; it's about lack of drinkable water. It is estimated that as many as 53.6 million Americans have contaminated tap water.
As eaters and consumers, Americans can profoundly reduce water waste and water consumption through the food choices they make. Recent research from the Barilla Center for Food & Nutrition shows that a healthful diet and environmentally sustainable diet can go hand in hand. Here are five ways American food consumers can help save water.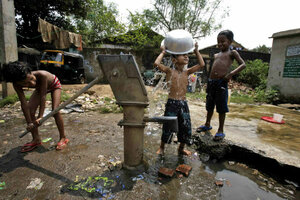 Biswaranjan Rout/AP
1.

Eat less meat

According to the United Nations Food and Agriculture Foundation, it takes nearly 10 times as much water to produce a kilogram of beef as it does to produce the same amount of wheat. Switching from a meat-centered weekly menu to a diet rich in vegetables and grains could save 2,500 liters of water a day. Choosing grass-fed meat can also save water because pasture requires less irrigation than feed crops to maintain.

Danielle Nierenberg is a food and agriculture expert and co-founder of Food Tank: The Food Think Tank.