3 priorities for Pakistan's new government
After 14 years, Nawaz Sharif is back at the helm in Pakistan. The center-right politician's herculean exertions to claw back from exile and resurrect his political party from collapse leave little doubt about his desire for power. But even Mr. Sharif could be forgiven a few pangs of buyer's remorse when confronted with the welter of looming problems.
Pakistan is on the brink of economic collapse and its citizens have suffered horribly from a recent spike in terrorism. Then there are tensions with neighboring Afghanistan and India, along with the frustrating and unpopular counter-terror partnership with the United States.
Fortunately, most of the rest of the world will be rooting for Sharif to succeed, or at least not to fail. Pakistan's burgeoning population of nearly 200 million people, expanding nuclear arsenal, and history of regional violence are all reasons to hope he can get his country turned in the right direction. Twice prime minister in the 1990s, the old Sharif displayed more interest in consolidating his political power than governing effectively. If his third time at bat is to be different, he will want to focus on the following three priorities.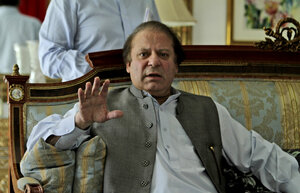 K.M. Chaudary/AP
1.

The economy

Pakistan's stock market surged on news of Sharif's victory. His party, the Pakistan Muslim League (PML-N) is more business-friendly than the outgoing left-leaning government of the Pakistan People's Party (PPP). Spurring economic growth should be the PML-N's top priority, not only to uplift society, but to reduce the appeal of violent extremist groups that prey on Pakistan's alienated and underemployed youth.

The beauty of Sharif's relatively strong representation in the National Assembly is that he can forge ahead on painful but necessary reforms, starting with tax policy. That, in turn, would appease international lenders and avert a near-term financial crunch. From there, Sharif can build positive political momentum if he revises regulations and creates incentives for private investment in the power sector, thus reducing Pakistan's rolling blackouts that shackle industrial production and infuriate the public.

Next, the PML-N will need to demonstrate that it can turn enhanced revenues into better government services, from education to infrastructure. Showy new bus lines and highways will invariably be used to reward his loyal constituents in his home base of Punjab Province, but Sharif will also want to consider projects beyond that to escape a reputation for being Punjab-centric and to support the sort of nationwide development required for stability.

Daniel Markey is a senior fellow at The Council on Foreign Relations in Washington, D.C., and is the author of the forthcoming "No Exit from Pakistan."