Seven tips for making your first year of college a success
The first semester of college is just one new thing after another. It's challenging, exciting, and sometimes a little scary. As a professor who's taught hundreds of firstyear students, I'd tell you that if that's your experience, this means you're doing it right. If you're treating your work seriously, taking intellectual risks, and asking questions, from time-to-time you'll be both exhilarated and confused.
I call this learning – whether you want to be a mechanical engineer or a physical therapist, a photojournalist or a concert trombonist. Whatever your dreams and ambitions, here are seven tips to get your first year of college off to a good start.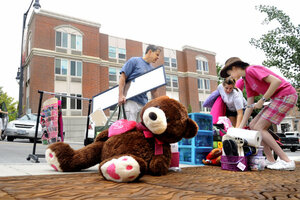 Kyle Mills/Lewiston Tribune/AP
1.

Put schoolwork first

The reason you are at school is to get the best education you can to be the best person possible. Fun is important, and you will make friends of a lifetime, but put your schoolwork and studies first.

Do the reading. I recommend "How to Read a Book" by Mortimer J. Adler and Charles Van Doren. It is ancient – from the 1940s, back when people read books – so they know what they're talking about.

Talk in class. You'll be amazed at how much you learn by putting your ideas into words. In big classes, this helps teaching assistants and professors distinguish you from a sea of faces. In small classes, it helps create an intellectual community with your peers.

Get organized. Don't let a deadline sneak up on you because you didn't read the syllabus. Have a plan for transferring all your deadlines from course syllabi onto a calendar for the whole semester.

Andrea L. Volpe has taught undergraduates at Colby College, Rutgers University, Tufts University, Harvard University, and Boston University for more than 15 years, six of them teaching first-year students exclusively.