3 takeaways from Obama's speech on Syria
President Obama's address to the nation on Syria last night was an exercise in nuance (if you approve of his speech), mixed messaging (if you are neutral), or mixed-up messaging (if you are critical). Mr. Obama acknowledged the reluctance of a war-weary public, but made an impassioned case for targeted strikes against Syria and laid out evidence of the Assad regime's culpability in the recent chemical weapons attack.
But Obama also praised recent diplomatic developments: Bashar al-Assad's offer to hand over his chemical weapons to the international community, with backing from Russia. And so, Obama explained, he has asked the Senate to delay its vote on the authorization of military strikes in Syria while this diplomatic option is being pursued.
Here are three key takeaways from his address.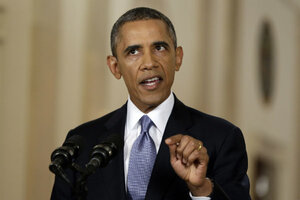 Evan Vucci/AP
1.

It won't shift public opinion

It is unlikely that Obama's speech itself will cause a seismic shift in public opinion. Speeches seldom do. People react more to real-world events than to what politicians say about those events.

John J. Pitney Jr. is the Roy P. Crocker Professor of American Politics and coauthor of "After Hope and Change: the 2012 Elections and American Politics."