7 reasons to be optimistic about Israeli-Palestinian peace talks
As diplomats begin hashing out an agreement on securing chemical weapons in Syria, diplomacy has been quietly at work on another pressing need in the Middle East: an Israeli-Palestinian peace agreement.
Israelis and Palestinians recently renewed peace negotiations after five years of deadlock, but it's hard to find many experts either in the United States or the region who truly believe they can succeed when so many previous attempts to end the conflict have failed.
Of course, nobody could dispute that the obstacles to success are daunting. Still, history never repeats itself exactly and some of the underlying conditions that make up the strategic backdrop to these negotiations are different than in the past – perhaps different enough to create a faint glimmer of hope that this time really could be different.
Here are seven reasons to be optimistic about this latest round of Israeli-Palestinian peace talks.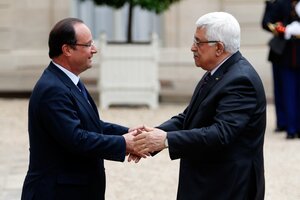 Charles Platiau/Reuters
1.

Better groundwork

These talks have been better prepared than many previous efforts. Secretary of State John Kerry has carefully laid the groundwork, and US military experts have been holding separate talks with their Israeli counterparts in an effort to hammer out security arrangements that would meet Israel's requirements for a military withdrawal from the West Bank.

Without such guarantees that calm Israeli fears that a withdrawal will not open up a new terrorist front against them, no agreement can succeed.

Alan Elsner is a former Jerusalem and State Department correspondent for Reuters and vice president for communications for J Street, a pro-peace advocacy group.