2014 GOP Senate primaries to watch
Senate Republicans seem to have a strong chance at gaining the six seats they need for a majority in the chamber. But their task will be tougher if they drop any of the seats that they already have. They worry that some of their primaries might produce tea party nominees who could be weak general election candidates. If victorious, others could fundamentally change the character of the Senate GOP. Here are six key primaries to watch.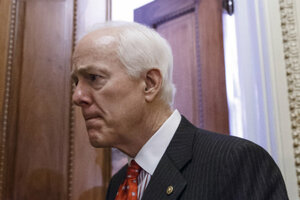 J. Scott Applewhite/AP
1.

Georgia (May 20)

Incumbent Republican Sen. Saxby Chambliss is retiring, and Democrats have a formidable candidate in Michelle Nunn. Of the several Republicans vying for the GOP nomination, the one who most concerns national party officials is Rep. Paul Broun. Severely conservative, even by Georgia standards, Mr. Broun has made a series of odd statements that, should he win the nomination, would hurt him in a general election.

Another candidate, Rep. Phil Gingrey, has made gaffes of his own. One involved Missouri Republican Todd Akin's notorious 2012 claim that a woman's body could prevent pregnancy after a rape. Last January, Mr. Gingrey said that Mr. Akin was "partly right." Still, most experts think that he would not be quite as vulnerable as Broun in a general election.