Four reasons to be hopeful this Earth Day
On the first Earth Day in 1970, environmental sentiment was brightly painted, proudly worn, and full of fierce optimism. Ask people about the planet now, and you're likely to hear that our political will has faded, even though our problems are worse. We're facing a climate crisis that's global and accelerating. Grand political solutions are far from view. The problem itself – carbon pollution from fossil fuels – isn't something we can "see" in a traditional sense. It's also irreversible, and a failure to act could tank the biosphere in ways we can't even imagine.
And yet, today, I'm hopeful.
Forty-four years after that first Earth Day, the issue of the present – climate change – remains profoundly divisive. But the same can no longer be said of climate solutions. There is a growing body of evidence to suggest that people everywhere, of every political stripe, really do want to use less of the energy that warms our planet. And now, technology, economics, and science are aligning behind them.
If the public and private sectors can work together and seize this moment, millions of Americans will soon have powerful new tools to reduce their energy consumption and dramatically curb our carbon emissions. We're on the cusp of something big, and here are four reasons why.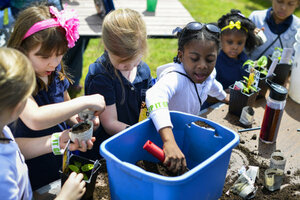 William DeShazer/The Commercial Appeal/AP
1.

Not everyone cares about carbon, but everyone cares about saving energy

On April 23, 1970, The New York Times wrote of the original Earth Day: "Conservatives were for it. Liberals were for it. Democrats, Republicans, and independents were for it. So were the ins, the outs, the executive and legislative branches of Government."

Today, I'm not sure you could write the same sentence. But you could about energy efficiency. Why? Because our behavior as energy consumers is nearly universal. We don't like waste. We don't like throwing money out the window. We want to be good neighbors and good citizens. As it turns out, these things mean as much to people in red states as they do to people in blue states.

There's plenty of data to prove the point, but it's easier to look at our statehouses. Even at a time of profound political division, energy efficiency laws have quietly swept across more than half the union – from North Carolina, to Texas, to California. Everyone agrees we shouldn't be wasting energy, and nearly everyone agrees we should be doing something about it.

Alex Laskey is president and founder of Opower, which provides cloud-based software for the utility industry. He was featured in Fortune's "40 under 40," has been a Technology Pioneer at the World Economic Forum in Davos, and serves as a commissioner on the Alliance National Commission on Energy Efficiency Policy. Mr. Laskey also serves on the board of the Conservation Lands Foundation.