Six ways to #BringBackOurGirls in Nigeria
When Nigerian Islamic militant group Boko Haram kidnapped more than 200 girls in Chibok, it galvanized world opinion and inspired one of the biggest social media campaigns ever – #BringBackOurGirls. While medium- and long-term strategies to end the Boko Haram insurgency have yet to be devised, the Nigerian government and those supporting it in the international community could do more in the short term to act on some practical and urgent ideas sprouting up from the grass roots.
It is time to prioritize Nigeria's pressing humanitarian needs and put into play practical ideas that would promote greater participation, deepen democracy, and build on Nigeria's bonds across the Atlantic. Most of these ideas could be implemented immediately, without major policy debates or costs. But they would make a huge difference for Chibok's girls – and all the others who deserve an education.
These six steps could immediately help address urgent humanitarian needs and contribute to democracy and rule of law in Nigeria.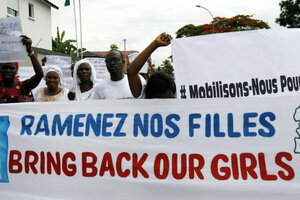 Luc Gnago/Reuters
1.

Establish 'solidarity schools' in the north

Families in the predominantly poor and Muslim northeast undertake huge risks and sacrifices to educate girls. Because the security services there have been unable to protect the schools in the region, thousands of children are being kept out of school – denied an education in a region of the country where the adult literacy rate is an abysmal 27 percent.

If existing public schools in nearby states could temporarily absorb some students, these schools and communities would be making a statement of national solidarity while also building trust across regional and ethnic lines. Kano State, for example, is well suited to do this, since its curriculum already accommodates Islam.

Private organizations such as the Federation of Muslim Women's Associations in Nigeria or Women Environmental Programme could lead the effort to defray costs, manage logistics, and buffer against politicization.

A. Carl LeVan is a professor at American University and the author of the forthcoming "Dictators, Democracy and Development in Africa: the Political Economy of Good Governance in Nigeria." Priscilla Achakpa is executive director of Women Environmental Programme (WEP) and helped organize the #BringBackOurGirls protests in Nigeria.