Talk to the editor: Obama's tough year
(Read article summary)
President Obama's first anniversary finds him facing political reversal, struggling to implement healthcare reform, presiding over a weak economy, and beset with overseas challenges. Washington correspondents Linda Feldmann and Peter Grier take your questions.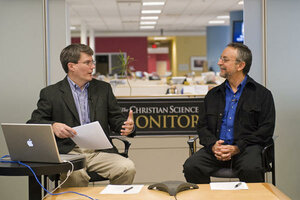 Sarah Beth Glicksteen / The Christian Science Monitor
Join us Thursday at 1 pm EST for a conversation with Monitor Washington correspondents Linda Feldmann and Peter Grier on President Obama's first year in office and his prospects for the coming year. We'll look at politics, including the stunning Republican win in Massachusetts, domestic policy (healthcare, in particular), and foreign policy (from America's standing the world to challenges Mr. Obama faces in Iraq, Iran, Afghanistan, and elsewhere).
The conversation will be webcast in this blog via Ustream. You can watch it live here.
Send your questions to us:
- via Twitter at #csmonitor
- by posting on the Monitor wall on Facebook (our preferred method).
- by submitting a comment below
Ustream will be featuring the 1 pm Thursday webcast live on its site (we'll embed it on this blog afterwards so you can catch up if you missed the webcast). You can also download a Ustream application for your iPhone at the Ustream site.