How a Wal-Mart struggle in India shows world progress
Stung by a case of corruption in Mexico, Wal-Mart pushes its Indian associates to be squeaky clean. Such action shows the global effects of a US anti-corruption law.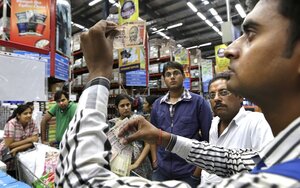 AP Photo
American firms rarely view their role in doing business abroad as "spreading the gospel of anti-corruption." Yet that phrase is now used by the Justice Department to describe the salutary effects around the world of US companies that comply with the Foreign Corrupt Practices Act (FCPA).
The 1977 law has been vigorously enforced by the United States only since 2009, resulting in more than $2 billion in fines and dozens of individuals convicted for corruption. The tough enforcement has even pushed Wal-Mart, the world's largest retailer, to admit last year that its representatives in Mexico had bribed officials to speed up building permits for new stores.
Now Wal-Mart is trying to clean up its act to the point that it is forcing changes in the corrupt practices of India, where it hopes to become the largest retailer within a few years.
The company is requiring the Indian landlords of its stores to "attest that they haven't greased any government palms," according to The Wall Street Journal. The requirement goes far beyond direct transactions with Wal-Mart. The Indian companies must be squeaky clean in all their dealings – much to their reported protest.
Taking a stand for honest and clean business hasn't been easy for American companies over the past 36 years. They've lost a lot of business to corrupt competitors. Wal-Mart, for example, is behind on its timetable to open stores in India.
But many American businesspeople who work abroad quietly say they appreciate the FCPA. It backs them up when a local official or a foreign businessman asks for a bribe or special favor. They can easily say "no," citing the jail time they might serve if they say "yes."
Over the past 15 years, as the US has stuck with the controversial law, many nations have signed onto various anti-corruption treaties and passed tough laws of their own. One reason may be that many of the prosecutions by the Justice Department have been of foreign firms with operations in the US.
"The FCPA is now a reality that companies know they must live with and adjust to; and this nation is better off for it," said Lanny Breuer, who until last month was the assistant US attorney general, in a speech last year. The department's enforcement, he added, is not only on the right side of history but also "has a hand in advancing that history."
Seeing the anti-corruption law as a missionary tool to change the world wasn't quite the intent of Congress, which passed the act after a scandal. But globalization has now made corruption everyone's business. And the Arab Spring was driven as much by people fed up with corruption as they were with having no democracy.
Many countries are also recognizing corruption's widespread damaging effects. One study of 49 countries found, on average, corruption can reduce foreign investments by 70 percent.
In 2009, the Obama administration placed the global fight against corruption as second to curbing terrorism. "Not only does corruption undermine the public trust and weaken democratic institutions; it also creates gaps in government structures that organized criminal groups and terrorist networks can exploit," said Mr. Breuer. "In short, corruption is a 'gateway crime.' "
Despite the global progress in new laws, very few countries have the level of enforcement that the US has. The watchdog group Transparency International lists only seven countries as "active" in enforcement, with the US topping the list.
Word of the US law's benefits has spread slowly. The German company Siemens, which was caught and heavily fined by the US for corruption, has since revamped its large organization to avoid graft. The results, it finds, have been good for business and a boost for employee morale.
In taking the moral high ground, the US and other countries that enforce such laws are making a conscious sacrifice. Their companies are losing business.
But in 2010, the United Nations estimated that corruption costs the world's economy about 5 percent each year. If this US-led campaign succeeds, its benefits won't have to be taken on gospel faith. It will pay for itself.