Nurturing the impulse to save Syria's millions
Russia worked on its ally Syria to allow UN aid access to the besieged city of Homs. That humanitarian moment should now lead to a UN demand for access to all 9.3 million displaced.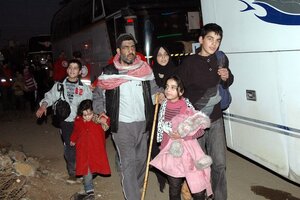 AP Photo
Besides hosting the Winter Olympics, Russia has played another role on the world scene in recent days. It has pushed its ally, Syria, to allow in United Nations buses to rescue hundreds of starving people in the besieged city of Homs.
Moscow's humanitarian deed, even if small and late in a war that has raged for nearly three years, is at least a seed of hope. The world could no longer ignore the immense human need inside Syria's most devastated city. Perhaps now Russian President Vladimir Putin will not threaten to veto a UN Security Council resolution aimed at helping the 9.3 million Syrians – or half the population – who have been displaced by war.
France, whose president will be on a state visit to the United States this week, plans to offer a resolution in the 15-member Council demanding international access for aid workers inside Syria. French Foreign Minister Laurent Fabius did not put a fine point on the reason: "It is absolutely scandalous that we have been discussing this for some time, but the people are still starving."
France and the US, along with Britain, have long been the leaders for humanitarian action. A recent example was the aerial protection of the Libyan city of Benghazi in 2011 to save millions of civilians. Yet each country has also been turning inward, beset by slow economies or doubts over foreign intervention. Syria now serves as a test case for whether humanity will still act on the natural impulse to care about mass suffering.
Upholding the dignity of each individual lies at the heart of the humanitarian cause that began to take hold on a global scale in the mid-19th century. But as Europe and America step back from that cause, other nations – or private groups – must step in. The US and France must persuade countries such as Russia to put compassion ahead of power politics. This is why the Homs rescue is not a small event.
Last August, France and the US made a credible military threat against Syria after its forces used chemical weapons on civilians. President Obama and French President François Hollande are leaders in opposing the use of such weapons. They should also be leaders in stopping mass atrocities, such as those in Syria.
The two men did co-write an opinion piece in Monday's Washington Post, stating: "With the Syrian civil war threatening the stability of the region, including Lebanon, the international community must step up its efforts to care for the Syrian people, strengthen the moderate Syrian opposition, and work through the Geneva II process toward a political transition that delivers the Syrian people from dictatorship and terrorism."
Saving noncombatants in the midst of a war is hardly easy. But as peace talks have begun between the Syrian regime and the opposition, now is the time for the UN to insist on humanitarian aid corridors in Syria. The "humanitarian pause" for Homs is a sign of what can be done.