Big hearts toward Central America's child migrants
The surge of child migrants over the US border may only continue if Americans don't open their hearts to the countries of origin – Honduras, El Salvador, and Guatemala.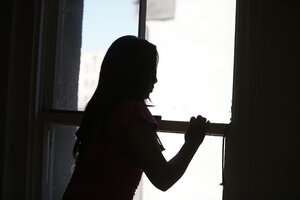 Reuters
The United States, which is already home to a fifth of the world's illegal migrants, is in a political crisis over a surge of unaccompanied children from Central America. More than 57,000 have crossed the border since last year. The issue of what to do with them is difficult enough for a divided Washington. But the Obama administration projects another 150,000 might try to enter the US over the next year.
Most of the recent migrants are from Honduras, followed by El Salvador and Guatemala. Many were sent by their parents, who had gotten false information from human smugglers that the US would be lenient. Others fled threats of violence. Either way, the deeper issue is not border security or US immigration policy. Rather, Americans must decide how neighborly they want to be toward Central America and whether they should help stabilize these three countries so more children don't flee.
Twice in recent decades, the US has generously worked with two Latin American countries in need of help. Since 1994, the US has aided Mexico with the NAFTA trade pact, a bailout from its peso crisis, and massive assistance to fight drug gangs. Since 1999, the US has spent billions to help Colombia suppress leftist rebels and drug cartels that threatened to split the country. Much of that aid was to boost the economy.
Since then, Mexico has greatly reformed itself, and sends far fewer illegal migrants across the border. Colombia is thriving and enjoys far more freedom from violence.
Is it now Central America's turn for massive US aid? And can the US even help the region solve the root causes that drive people to take the risky journey to the US?
Much of the current aid is focused on counterterrorist and counternarcotics operations under a program known as the Central American Regional Security Initiative. The US also helped bring about the Central America Free Trade Agreement a decade ago, although few of the countries have done much with it.
With the surge of child migrants, Honduras has called for a mini-Marshall Plan for the region, modeled on the post-World War II aid initiative to Europe. Honduras itself is a corrupt, gang-ridden, and poor nation. It has the highest per capita rate of murders in the world, followed by El Salvador at No. 2.
Of the $3.7 billion that President Obama seeks from Congress to deal with the child-migrant surge, only $300 million is designed to uplift the three countries. This hardly seems enough to deal with root causes. And it may not reflect the bipartisan support on Capitol Hill to stem illegal migration at its source. Most of all, the amount does not represent past US generosity toward its closest neighbors.
The US may be rightly worried that more aid to Central America would be misspent by an apathetic and corrupt political elite. But Mr. Obama could show more leadership by bringing the leaders of Honduras, El Salvador, and Guatemala together in an effort to match new US aid with responsible reforms. Republicans might join him in that project, perhaps helping to break the political logjam over immigration reform.
Big hearts have a way of melting hard hearts.