A British way for countries in divorce
Last week's UK election was not only a win for Conservatives but for the gentler, more persuasive approach by the Scottish Nationalist Party, which won big in Scotland. Now Britain must continue its peaceful model of settling disputes over disunion.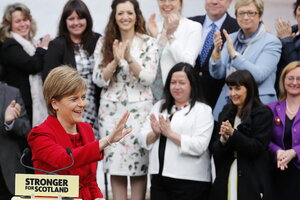 REUTERS
A good portion of the news these days is about the potential breakup of countries. Most involve violence or a threat of violence, such as in Ukraine, Iraq, or Myanmar. Violence has also driven recent results, such as in Sri Lanka, Crimea, and South Sudan. The world should thus be grateful that the British election last week has helped ensure a peaceful approach to the secessionist cause in Scotland.
The big news in the UK election was a victory for the Conservatives and its leader, Prime Minister David Cameron. But just as surprising was the near-sweep by the Scottish National Party. The SNP won 56 of the 59 seats in Parliament from Scotland. It is now the third largest party in British politics. Yet its victory in the UK election came just eight months after it lost a referendum on the question of independence from the UK.
The two votes, which reflect both a divided Scotland and a divided United Kingdom, have shown the world a better way to patiently deal with a public's appetite for a split-up. Yet such democratic voting is not the only means to resolve the emotional pressures for disunion.
In both of their reactions, Mr. Cameron and Nicola Sturgeon, the new SNP leader, have shown graciousness and flexibility in trying to resolve tensions between England and Scotland.
Ms. Sturgeon has taken a far gentler approach than the previous party leader, Alex Salmond. She assured Scots who voted to remain in the UK last year – more than half – that the parliamentary election was not about independence. She has sought to heal Scotland's divisions over her party's long-standing position on the issue. She even framed her campaign as mainly about differences over economic policies with both Conservatives and Labour.
Her approach reflects those in Spain and Canada, which have achieved a decentralization of powers for regions with separatist causes through respectful persuasion. It also builds on lessons learned from past violence in Northern Ireland and the successful mediation to keep the province in the UK.
And to show her respect for the UK, Sturgeon announced after the election that Scotland would be sending a gift to Queen Elizabeth's new great-granddaughter. The new royal baby, Princess Charlotte, will receive a knitted bobble hat (with a Scottish design).
After the May 7 election, Cameron also extended an open hand. He promised to govern "with respect," bring the "country together," and reclaim "the mantle of one nation." He appears willing to go further than the Smith Commission's proposals last year on devolving financial and economic powers to Scotland. He might even agree to a constitutional convention to look at the UK's system of governance, which often overlooks the interests of large minorities.
As Mayor of London Boris Johnson said after the election, "Everybody needs to take a deep breath and think about how we want the UK to progress."
And every country caught up in violent secession battles should take a deep breath and look to Britain as a model.