The 'healing' aspect of a Japan-South Korea pact on 'comfort women'
The agreement brings restitution and an official apology to 46 Korean women – and also a shared recognition of each nation's role in rising above differences toward working together in Asia.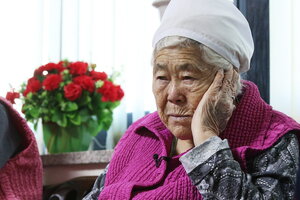 Reuters
In a pact with far more meaning than it appears, the leaders of Japan and South Korea agreed on Monday to jointly help a group of 46 Koreans recover their "honor and dignity." The Koreans are former "comfort women," a euphemism for the tens of thousands of women in Asia forced to work in brothels managed by the Imperial Japanese Army from 1932 to 1945. With this pact, these few survivors finally received a strong apology from Japan's prime minister, Shinzo Abe. They also will be offered $8.3 million by the Japanese government to help in "healing" their mental "wounds."
In reaching the agreement, Japan and South Korea have signaled they want to end the controversy over this emotional remnant from World War II and Japan's colonial era. As their economies and democracies have matured, the two neighbors have come to realize that their national identities are more tightly bound to the universal values necessary to maintain order and freedom in both Asia and the world. And just as they now seek to restore the inherent dignity of the former comfort women, Japan and South Korea are claiming a greater role as responsible stakeholders in the international system, rising above any need to assert an ethnic identity against each other or to define their nations as victims. South Korea, especially, which has long struggled with North Korea for national legitimacy, has used issues with Japan to define itself.
Standing together for a common good will benefit both countries more than defining themselves in opposition to something.
In difficult negotiations over recent months, each country had to make concessions. Both were under pressure from their main ally, the United States, to find a solution. South Korea agreed to work with Japan in providing the official restitution to the women and to refrain from criticizing Japan over the issue in international forums. For Japan, by making the official payment, it elevated its responsibility from resting on a moral or humanitarian basis to one with legal implications. It had long considered all its postwar obligations to South Korea closed in a 1965 treaty that came with $800 million in economic aid and loans.
Japan and South Korea still have many differences, such as a dispute over islands, and in how to deal with North Korea. Yet in recent years their peoples have grown closer, measured in mutual admiration of each other's popular culture and in number of visitors. Japan's economy is the world's third largest while South Korea's is the 14th largest, which means their interests overlap more than ever. They also have a shared interest in dealing with China as a rising power that is making claims on its neighbors' territories. The US also needs them to work together for defensive security and in expanding free trade.
Resolving the comfort women issue was not a symbolic move. Rather, it was identity affirming, for both the women and the two countries.