Top 10 global weather events of 2010
A panel of weather and climate experts ranked the the Top 10 global weather and climate events of 2010. Voters considered the scope and unusualness of the event, its immediate human and economic impact, and whether it is emblematic of climate trends or variability. They voted during the first week of December, so the following weeks' extreme winter weather in Europe, which may have deserved a spot in the Top 10, received an honorable mention.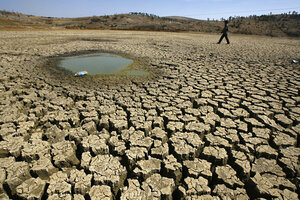 Reuters / File
10. China drought

A persistent drought, described as the worst in a century, covered parts of southern, southwestern, and central China from January through April.

Centered in Yunnan Province, the drought destroyed several million hectares of crops and dried up drinking water sources, affecting more than 50 million people, said the Office of State Flood Control and Drought Relief Headquarters.

Rains in late March and April eased the drought in most areas, so by the beginning of May, China declared the drought emergency over.