'Green' jobs: Top 10 states for clean tech
Clean-tech hubs keep blossoming across the United States, and not always in the most expected of places. Bozeman, Mont., for example, is attracting a wave of entrepreneurs and high-tech gurus. Plenty of other states are playing host to companies that could launch the next wave of eco-friendly industries. Clean Edge, a clean-tech research and advisory firm based in San Francisco and Portland, has ranked the states based on their clean electricity generation, the number of alternative fuel vehicles they have, their "green" buildings, smart-meter installations, clean economy jobs, and other factors.
Here's the Top 10 list assembled from its 2013 US Clean Tech Leadership Index. Can you guess who's No. 1?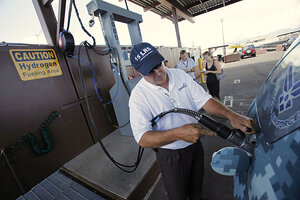 Hugh Gentry/Reuters/File
10.

Hawaii

Hawaii's sunny, mild climate gives it a leg up over many states. Home to the nation's highest electricity rates, the state has proved to be a magnet for smart-meter installers and other energy efficiency companies. That push for consumption reduction means Hawaii has the second-lowest electricity use per capita behind California.

Clean-tech job growth has been rising steadily over the past 10 years, according to state data. Also, 26 percent of construction expenditure in Hawaii in 2012 was solar-related. Hawaii's solar-energy capacity jumped 150 percent in 2011, making it No. 11 among the 50 states in terms of solar capacity, according to the US Energy Information Administration (EIA).