Father's Day: 5 gifts to 'green' your dad
If there's one thing sure to please any father, it's a lower monthly electric bill. So this Father's Day, why not get dad the latest gadgets that will save him money and spare the planet a few pounds of greenhouse gas. Here are five energy-saving Father's Day gift ideas to help 'green' your dad.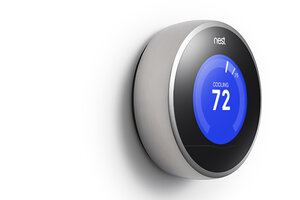 Nest
Nest Learning Thermostat

Call it the iPhone of thermostats. Gone are the days of programming (or forgetting to program) your thermostat. With Nest, you simply turn the temperature up or down to match your comfort and, over time, this "smart" thermostat programs itself.

Want to make an adjustment on-the-go? With Nest, you can connect to your thermostat from your smartphone. At $250, Nest is on the pricy side up front, but users can save as much as 20 percent on their heating and cooling bills, according to the company.

"There are few technology products less inspiring than the thermostat," wrote the Wall Street Journal in its review. "Yet for the past week, I've been more captivated by a thermostat than I ever thought possible."