Elections 2014: 5 races that will shape US energy
From fracking in Colorado to climate change in New Hampshire, energy is cropping up in midterm elections throughout the country. And energy isn't just an issue on the campaign trail. Whichever party wins the Senate will have a shot at tackling major energy questions over the next two years – from Keystone XL to crude oil exports to renewable fuel standards.
Control of the Senate hinges on the outcome of elections in states like New Hampshire, Colorado, Louisiana, Iowa, and Kentucky. Republicans need to net six seats to gain the majority in the Senate, and one top Democrat thinks Iowa could be the bellwether.
Democratic Senate Majority Leader Harry Reid said Saturday that if Democrat Rep. Bruce Braley loses to Joni Ernst (R) in Iowa, he expects Republicans will win the Senate, likely making Sen. Mitch McConnell (R) of Kentucky the Senate majority leader.
If Republicans win – which political prognosticators say is increasingly likely – they'll team up with the GOP-led House to work on expanding the US's domestic oil and gas boom. A Republican congressional agenda would likely include expanding offshore drilling, sending more natural gas overseas, and lifting the decades-old ban on crude oil exports. Pushing the approval of Keystone XL, a controversial pipeline proposal that would carry heavy crude oil from Canada to Texas refineries, would also be high on the GOP's to-do list.
But even if Republicans gain control of the Senate, some observers point out that they'll have a difficult time getting much done. The 50-seat majority they'll need to control the chamber is far short of the 60-vote, filibuster-proof majority Republicans would need to pass most legislation through the Senate.
Environmental groups are pumping millions into hotly-contested Senate races, in hopes the GOP remains in the minority. A Democratic-held upper chamber could maintain the "firewall" that has stymied Republican attempts to overturn Obama's climate and energy agenda.
If Democrats manage to eke out a slim majority, the Senate will likely bolster Obama's efforts to rein in carbon emissions from coal plants – a major contributor to human-induced climate change. A Democratic Senate would take a more cautious approach to oil development, but would likely embrace a rise in output that has buoyed a shaky US economy.
Here are five competitive Senate races where energy matters, and where the victor could determine who controls Congress: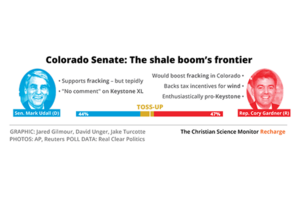 Jared Gilmour/David J. Unger/Jake Turcotte
1.

The shale boom's frontier

Colorado has become one of the closest races in the country – a headache for the national Democratic party, which had counted on Sen. Mark Udall's (D) seat being safe.

Sen. Udall's hesitance on fracking and Keystone XL have him caught between a pro-fracking challenger Rep. Cory Gardner on the right, and environmentalists who oppose the drilling technique on the left. Gardner is pro-Keystone and pro-drilling, and touts his support for wind energy in campaign ads.

Earlier this summer, Udall and Governor John Hickenlooper (D) seemed to buoy their chances at staying in office when they crafted a deal that removed anti-fracking initiatives from the ballot. The two Democratic incumbents feared the anti-fracking measures would attract millions in oil and gas industry spending in the election, which would likely help their enthusiastically pro-fracking Republican challengers.