GOP Congress: 5 energy priorities
Republicans won control of the US Senate in the 2014 midterm elections, and they're already deciding what to tackle when they take the reins. Perhaps the most prominent and promising area for the next Congress to make headway is energy and climate.
Approval of the long-delayed Keystone XL pipeline is high on the GOP majority's to-do list, but it's not the only priority. Many Republicans are itching to expand liquefied natural gas (LNG) exports by speeding up the permitting process, and others hope to expand oil and gas drilling offshore and on public lands. Many hope Congress will pass a bill to boost energy efficiency, a rare energy issue that tends to win the support of both parties.
Republicans view their Senate majority as a chance to stall the "war on coal" they accuse President Obama of waging. It's also a chance to boost a US energy boom that's created jobs, lowered gas prices, and reduced American dependence on foreign oil. The US oil and gas sector has grown so quickly in the last several years that US production now rivals that of Saudi Arabia and Russia.
And energy provides fertile ground for bipartisan compromise, which will be especially important in a Senate where the GOP holds only a slim majority. Because legislation in the Senate requires 60 votes to beat a filibuster, Republicans need a handful of votes from Democrats to accomplish their goals.
That seems possible on energy issues if Republicans can enlist the help of energy-state Democrats like Sen. Heidi Heitkamp (D) of oil-rich North Dakota and Sen. Joe Manchin (D) of coal-heavy West Virginia.
The Republican-controlled House has been passing bills to bolster the US oil and gas boom since they took over that chamber several years ago. House energy measures range from expanding drilling on public lands to expediting permitting for wells.
But those bills languished in the Senate under outgoing Majority Leader Harry Reid (D) of Nevada. Reluctant Democrats worry about adverse environmental effects of hydraulic fracturing and about the emissions associated with oil, gas, and coal.
Take a look at the top GOP energy priorities – and the likelihood each comes to fruition: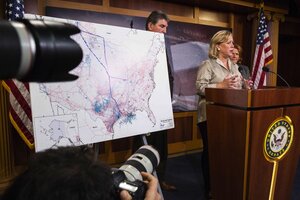 Joshua Roberts/Reuters
1.

Keystone after all

Republicans hope their Senate majority is the key to finally getting the Keystone XL pipeline built. The project would carry about 830,000 barrels of Alberta oil sands a day from Canada to US Gulf Coast refineries.

The project has been mired in delays for six years, awaiting State Department approval because a section crosses the US-Canada border. Environmentalists oppose Keystone XL, saying it would encourage investment in carbon-heavy oil sands. Industry says the pipeline will create jobs and strengthen North American energy independence.

But Keystone could become a major dilemma for Mr. Obama, who has said he will only approve the project if it doesn't increase climate-warming carbon emissions. Some observers say he could approve the project in exchange for a concession from Republicans – perhaps on his climate agenda or on closing tax loopholes.