Sanctions won't stop Pakistan from Iran natural gas
(Read article summary)
Pakistan is looking to Iran natural gas to help resolve its ongoing energy woes, Graeber writes. Tightened US sanctions on Iran's energy sector doesn't seem to deter Pakistan's pursuit for a natural gas pipeline to Iran.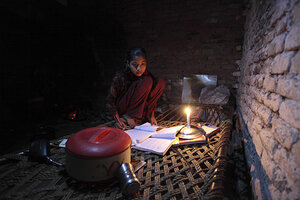 Faisal Mahmood/Reuters/File
Pakistan says it can't let geopolitical concerns interfere with its quest to find ways to keep the lights on. A planning minister said last weekend that all options must be on the table to resolve ongoing energy woes and that could include actually moving on a long-discussed natural gas pipeline from Iran. A rival project from Turkmenistan has U.S. and Asian Development Bank support, though with U.S. priorities shifting, the new Pakistani government may have greater freedom in terms of its regional social circles.
The U.S. government last week tightened the screws on the Iranian energy sector on the heels of a damning report from the International Atomic Energy Agency.  U.S. sanctions are meant to starve Iran of the revenue it could use to finance its controversial nuclear program and, to some extent, the U.S. efforts are working better than ever. (Related article: Pakistan Faces Tough Choices with Energy Crisis)
Nawaz Sharif is in the dawn of his third stint as prime minister of Pakistan. His third non-consecutive term marks the first time that a civilian government ended a full five-year term and handed power over to another administration by a democratic vote. Last week, he told members of Parliament the day of U.S. drone strikes over Pakistani territory are over.
"We respect the sovereignty of other countries, but others should also respect our sovereignty," he said. 
U.S. President Barack Obama told the National Defense University last month that patience should drive foreign policy as it relates to developing democracies like Pakistan's. With Sharif's administration in power, and the war in Afghanistan winding down, it's time to shift U.S. focus to new and emerging threats. The core of al-Qaida is on the path to defeat, the president said, and operations like the raid that killed Osama bin Laden in 2011 can no longer be the norm. That means that no longer can U.S. policy drive the terms of a democratic Pakistan. When a U.S. drone strike left at least nine people dead in Pakistan last week, it was Sharif's government calling the shots by issuing a formal complaint against the attack.
Pakistani Federal Minister for Planning Ahsan Iqbal said the government needs to ensure natural gas supplies from wherever they come from. The top priority for Sharif's administration isn't making friends, but keeping the lights on, he said. Pakistan's national security is compounded by domestic frustration with an energy crisis that leaves most of the country without power for much of the day. With temperatures hovering in the triple digits Fahrenheit, foreign alliances may be the least of his concerns if there's no electricity soon. (Related article: Is Iraq Capable of Becoming the Largest Oil Producer in the World)
The United States is turning its attention elsewhere, meaning Sharif can conduct business without too much worry of immediate U.S. repercussions. Without cash to pay the bills, Pakistan's energy production operates at about 50 percent capacity during the hot summer months. Iran, however, said it would help finance the construction of a natural gas pipeline from the South Pars field in the Persian Gulf, one of the largest in the world.
Sharif's administration said energy was at the top of its 100-day agenda. The federal planning minister said that agenda includes the Iranian pipeline, once dubbed the Peace Pipeline, U.S. foreign policy concerns be damned.
"We will continue the work at the gas pipeline because such a vital project cannot be set aside in hard times like the present," he said.
Original Source: http://oilprice.com/Energy/Natural-Gas/Damn-the-Sanctions-and-Bring-on-the-Gas-says-Pakistan.html