Five hopeful signs global energy is getting cleaner
There are seven billion people and counting on Earth, and our energy needs are only growing.
But as the world population grows, so does the threat of climate change and environmental harm – particularly if that ever-growing population relies on vast natural resources and the burning of heat-trapping fossil fuels.
That's not to say there isn't hope, though. Even in an era full of warnings that humans are negatively impacting the planet, governments, individuals, and the private sector have made real progress toward being better stewards of the planet. And much of that progress has come in the world of energy, where scientific and technological advances are improving how we use energy, where we get it from, and how it impacts our surroundings.
Those advances could go a long way toward solving climate change, but there's a lot of work left to be done. If humans continue using fossil fuels at current rates, scientists say that the world will relatively quickly burn through its "carbon budget" – the amount of carbon humans can put into the atmosphere without raising temperatures to dangerous levels.
"We may have just about 30 years left until the world's carbon budget is spent if we want a likely chance of limiting warming to 2 degrees C," Kelly Levin, a senior associate at the World Resources Institute, a global think tank, wrote last year in a blog post. "Breaching this limit would put the world at increased risk of forest fires, coral bleaching, higher sea level rise, and other dangerous impacts."
But given advances in renewable energy, battery storage, government regulations, and more, there's plenty of reasons to be optimistic that the world is making progress toward a cleaner energy future.
Here are some reasons to be hopeful: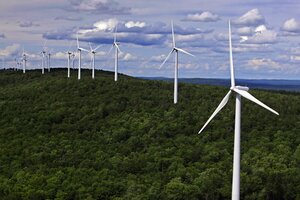 Robert F. Bukaty/AP/File
1.

Wind and sun

Clean energy is expanding worldwide, and wind and solar in particular are driving the shift from carbon-intensive fossil fuels to renewable sources. This could be a banner year, particularly in the US.

"In 2015, the US will install more renewables than ever before, with 18 new gigawatts (GW) coming online," according to an analysis released by Bloomberg New Energy Finance in April 2015. "BNEF forecasts new solar installations to reach an all-time annual high of 9.1GW in 2015 – with half of that built in California. Wind build should total 8.9GW (third-most all-time) with a third of that coming in Texas."

And though utility-scale solar power will provide only about 0.7 percent of total US electricity generation in 2016, according to EIA, solar's footprint is growing, and many homes and businesses are installing solar panels to produce some of their own electricity.