Modi and Obama push solar/nuclear energy boost for India
With Prime Minister Modi in Washington, the two nations rolled out partnerships to help achieve the twin goals of lower carbon emissions and economic growth.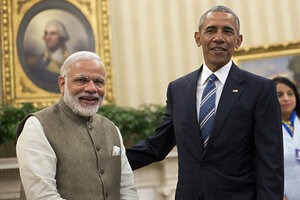 Pablo Martinez Monsivais/AP
Together, the United States and India are teaming up to tackle one of the world's biggest challenges, how to spark economic development while cutting the emission of planet warming greenhouse gasses.
During a visit to the White House on Tuesday, Indian Prime Minister Narendra Modi signaled his country's commitment to implementing a long-term, low-carbon economic development strategy.
"That is something the Paris [climate] agreement invited countries to do, to put together a mid-century, low-greenhouse gas emissions strategy, and the Indians for the first time are signaling their commitment to develop such a strategy," Brian Deese, senior advisor to President Obama, said in a conference call with reporters Tuesday.
India is the world's fourth largest emitter of greenhouse gas, following only China, the United States, and the European Union. In the lead-up to the Paris Climate conference in December 2015, India committed to reduce the intensity of its greenhouse gas emissions by 33 to 35 percent from 2005 levels by 2030.
Still, officials there have stressed that economic development can still trump climate commitments in a country where around 300 million people still live without access to electricity. How to expand electricity access and grow the economy without burning more coal and other fossil fuels has been a major sticking point, especially since the country's economy is expected to blossom in coming years.
With this in mind, India released an ambitious plan to install 175 gigawatts of renewable energy by 2020, 100 gigawatts of which would be from solar energy alone. In order to do that, however, the country needs financing. Some experts estimate that India will need around $2.5 trillion in investments in order to meet its 2030 climate commitments.
That's where the US-India partnership comes in – with prominent elements on both solar and nuclear power.
On Tuesday, the US and India announced a $20 million India Clean Energy Finance Initiative (USICEF). The scheme is expected to mobilize up to $400 million to provide clean and renewable electricity to around 1 million households by 2020. The Overseas Private Investment Corporation (OPIC), a Washington-based investment service, will be a major supporting partner of the project.  
"The resources would be provided in a concessional way for project preparation to help developers on the ground actually put together serious, bankable, renewable projects," Mr. Deese said Tuesday. "So this is an approach of coupling seed financing with a broader OPIC backstop."
He said similar efforts at financing renewables have been successful in Africa.
Meanwhile, the two countries are also launching a $40 million Catalytic Solar Finance Program. The program aims to provide liquidity to small-scale solar energy projects, particularly in underdeveloped, rural areas without access to the electrical grid.
Together, the initiatives could mobilize about $1 billion in solar projects.
Nuclear energy is also expected to be a fundamental part of India's low-carbon energy mix. India is set to contract the American company Westinghouse to build six nuclear reactors, White House officials said Tuesday. The engineering and site development for the projects have already been launched, but the final details of the contract will not be completed until June 2017.
"Once completed, the project would be among the largest of its kind," read a joint statement released by the White House, saying the project symbolizes "a shared commitment to meet India's growing energy needs while reducing reliance on fossil fuels."
The announcement is the first sign of US-India collaboration on nuclear energy projects since the two countries signed a historic civil nuclear deal in 2005. The US Export-Import Bank may provide financing for the reactor project.
During the visit, Mr. Modi's fourth to the US during his premiership, the two countries spoke with a united voice for climate action.
"India and the United States recognize the urgency of climate change and share the goal of enabling entry into force of the Paris Agreement as early as possible," read the joint statement.  
Addressing the US Congress on Wednesday, Modi highlighted the importance of his country's partnership with the US during its transition to a low-carbon economy.
"The protection of environment and caring for the planet is central to our shared vision of a just world. For us in India, to live in harmony with mother earth is part of our central belief," he said. "Our partnership, therefore, aims to balance responsibilities with capabilities."