Manitou Springs mudslide closes road in Coloroado
Manitou Springs mudslide: A four-mile stretch of US 24 in Colorado was closed Wednesday afternoon after a thunderstorm sent rocks, mud, debris, and running water rushing down part of a canyon. No injuries have been immediately reported from the Manitou Springs mudslide.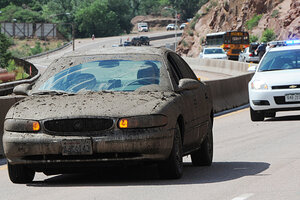 Jerilee Bennett/The Gazette/AP/File
A thunderstorm in Colorado sent rocks, mud, debris and running water rushing down part of a canyon in Manitou Springs, leaving some vehicles covered or stuck in mud.
The rockslide closed a four-mile stretch of U.S. 24 Wednesday afternoon. El Paso County sheriff's officials say there was no immediate report of injuries.
The American Red Cross opened a shelter for people seeking higher ground.
The National Weather Service had issued flash flood warnings for areas scarred by the Waldo Canyon Fire last year and the Black Forest Fire this year, since soil and vegetation that normally would absorb rainfall there has been burned away.