Oil prices stay below $100 a barrel
Oil prices rose 34 cents Friday after a strong jobs report, but still remain under $100 a barrel after US supplies of crude surged to a new record. In London, Brent crude oil prices closed at $108.59 a barrel.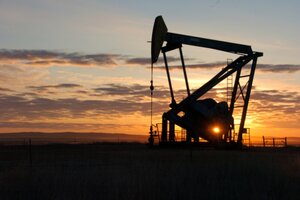 Matthew Brown/AP/File
The price of oil rose Friday as a report showed a big gain in new jobs in the U.S. But gains were tempered by ongoing concerns about record oil supplies.
Benchmark U.S. crude oil for June delivery gained 34 cents to $99.76 a barrel on the New York Mercantile Exchange.
Prices fell below $100 earlier in the week, mostly due to a surge in U.S. supplies of crude oil, which rose to a record 399.4 million barrels, according to the Energy Department.
Brent crude, an international oil benchmark, rose 83 cents Friday to $108.59 on the ICE Futures exchange in London.
The Labor Department said U.S employers added 288,000 jobs in April, the most in two years. The unemployment rate fell to 6.3 percent, its lowest level since September 2008.
"The report may represent some catch-up from the hit the economy apparently took over the brutal winter months," said the Kilduff Report edited by Michael Fitzpatrick.
In other energy futures trading on Nymex:
— Wholesale gasoline rose 1 cent to $2.94 a gallon.
— Heating oil added 1 cent to $2.92 a gallon.
— Natural gas fell 5 cents to $4.67 per 1,000 cubic feet.