Fleas infest New York courthouse
Fleas infested a New York courthouse, shutting it down for at least two days. Officials say they are working to remove the fleas that have infested the New York courthouse.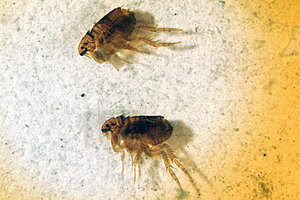 Natural History Museum of Los Angeles County/AP/File
A western New York courthouse is closed for a second consecutive day because of an infestation of fleas.
New York state court officials tell The Daily News of Batavia (http://bit.ly/WYMAr4 ) that the Orleans County Courthouse in Albion was closed Monday and will remain closed Tuesday.
The courthouse includes the Orleans County state Supreme Court and county and Surrogate courts. Family Court matters have been shifted to the village hall in rural Albion, located 30 miles west of Rochester.

Recommended:
Name that animal!
Court system officials say remediation work began Monday against a flea infestation was found throughout the courthouse. Officials say the courthouse should reopen Wednesday morning.
___
Information from: The Daily News, http://www.batavianews.com