Drug recall expands: More Tylenol, Benadryl recalled due to moldy smell
Drug recall: Five lots of Tylenol and Benadryl have been added to an expanding recall, after customers have complained of a moldy odor emanating from the pills.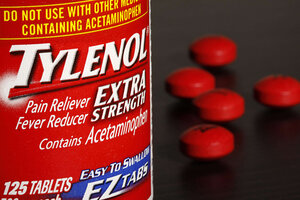 Newscom/Illustration/File
Fort Washington, Pennsylvania
Johnson & Johnson is expanding a months-old recall of certain over-the-counter medicines due to complaints about a moldy smell.
J&J's McNeill Consumer Healthcare unit has issued three major recalls of its medicines in eight months, leading to congressional investigations and citations by the Food and Drug Administration.
The company is expanding a Jan. 15 recall to four lots of Benadryl Allergy Ultratablets and one lot of Extra Strength Tylenol. The products were distributed in the U.S., Puerto Rico, Bermuda and Tobago.
The odor associated with the products came from a chemical used to treat wooden pallets that transport and store medication packaging materials.
IN PICTURES: Major product recalls
Related