BP stock plummets with oil spill clean-up at key stage
BP stock struggled as the company's attempts to contain the oil spill was neared a potentially important stage on Friday.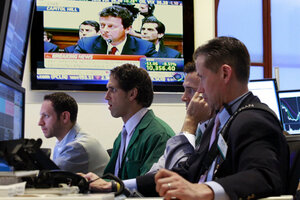 Brendan McDermid/Reuters/File
The U.S. Coast Guard said the British energy giant plans next week to more than double its capacity for siphoning oil gushing from its ruptured deep-sea well, but a looming storm raised fears that the effort could be disrupted for days.
BP and the U.S. government kept a careful eye on the weather as an approaching low-pressure system over the western Caribbean Sea gathered strength.
BP said it had paid out $2.35 billion so far in clean-up and compensation costs for the ecological disaster caused by the biggest oil spill in U.S. history. That does not include the $20 billion oil spill fund it has agreed to set up, nor the billions of dollars it will have to pay in fines.
IN PICTURES: Sticky mess: The Gulf oil spill's impact on nature
As the spill entered its 67th day, BP said two relief wells that offer the best hope of plugging its well were on track to intercept their target at a depth of 18,000 feet. The wells are due to be completed in August.
An April 20 explosion blew up an offshore rig, killing 11 workers, and blowing out the well a mile beneath the surface. The well has spewed millions of gallons of oil into the ocean, soiling the U.S. Gulf coastline and threatening multibillion dollar tourism and fishing industries.
BP STOCK
Any slowdown in clean-up efforts could place more pressure on President Barack Obama, who has faced criticism over his handling of the crisis, and BP, which has seen $100 billion wiped off its market value since the start of the disaster.
In London, its stock plunged more than 6 percent on Friday, trading at its lowest levels since 1996, on talk it needs extra cash to fund the clean-up and worries about the bad weather.
Its U.S.-listed shares touched a new low for the second day and were down 4.77 percent in morning trading in New York.
A spokesman for BP -- whose chief executive, Tony Hayward, is currently on a UK investor roadshow -- said it had "considerable firepower" to meet the costs of the spill and denied market talk that the company was seeking bankruptcy protection.
BP has been gradually increasing the amount of oil it is siphoning off through a containment cap system installed earlier this month. The company said its oil-capture systems collected or burned off 23,775 barrels of oil on Thursday.
Coast Guard Admiral Thad Allen, who oversees the federal relief effort, said BP plans to more than double its oil collection capacity next week.
"We're coming upon a critical time next week," Allen told Fox News Channel. "We're going to bring a third vessel on line by next Tuesday that will bring our production rate up to about 53,000 barrels a day."
U.S. government scientists estimate that between 35,000 and 60,000 barrels a day are leaking from the well, far above BP's original estimate of 5,000 barrels a day.
WEATHER WORRIES
Bad weather, however, could delay the company's plans to boost its oil collection capacity.
Some computer models show the storm system in the western Caribbean Sea moving over the Yucatan Peninsula and then veering north into the Gulf of Mexico. Others, however, showed the system heading westward toward Mexico.
The system has a 70 percent chance of developing into a stronger storm over the next 48 hours, the U.S. National Hurricane Center said on Friday.
Allen said it would be necessary five days ahead of the arrival of any gale force winds to start to take down the current operations involving ships and other equipment collecting some of the oil spewing from the ruptured well.
"That trips a series of events where we try and move the equipment and the people into safe shelter," Allen said, adding that during any such evacuation the oil would gush unchecked into the sea.
Two oil-capture systems siphon oil from the leak to a drillship and a service rig a mile above the well at the water's surface. Both use fixed pipes that require several days to disconnect and allow the vessels to move out of the path of a storm, officials said.
(Additional reporting by Scott DiSavino in New York; writing by Ross Colvin; editing by Will Dunham)
IN PICTURES: Sticky mess: The Gulf oil spill's impact on nature
RELATED: