Immigration laws should be less restrictive, NYC mayor says
Immigration laws discourage people with an entrepreneurial spirit, according to New York Mayor Michael Bloomberg, who seeks to ease US immigration policies.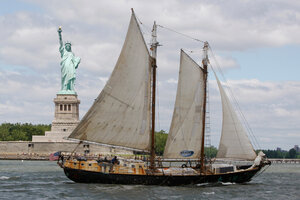 Kathy Willens/AP
New York Mayor Michael Bloomberg says the country is "giving shortshrift to immigration" and that economic problems will worsen until America sends out a more welcoming message.
The mayor of the largest U.S. city says America is "pushing people that other countries want away from our shores."
He said on ABC television that an overly restrictive immigration policy discourages people who can create work with an entrepreneurial spirit.
Bloomberg said, "If I were the president working with Congress, I would give a green card to anybody from around this world who wants to come here, create a business. They keep the green card as long as they employed, let's say, 10 or more workers."
He said a path to citizenship should be found for the roughly 11 million people here illegally.
Related: