Yogi Berra resting at home after fall
Yogi Berra went to a local hospital after falling in his New Jersey home last week. After an overnight stay, the former Yankee great is said to be doing better.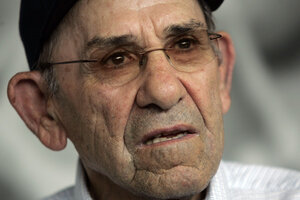 AP Photo/Rich Schultz
Yogi Berra is resting at home after spending the night in the hospital to get treatment for injuries he sustained in a fall on Friday.
Berra spokesman Dave Kaplan says in an e-mail that the Hall of Fame catcher "was admitted for some tests" Saturday but was home Sunday night and was improving.
Kaplan didn't provide any more details about why Berra was admitted. He says Berra is planning to attend the Hall of Fame induction ceremony in Cooperstown, N.Y., next weekend.
Berra skipped Yankees' Old-Timers Day on Saturday after the fall at home left him with bruises and cuts on his face.