Americans with Disabilities Act anniversary has quadriplegic congressman presiding over US House
Americans with Disabilities Act celebrates its 20th anniversay on Monday. US Congressman Jim Langevin, Democrat from Rhode Island, who is a quadriplegic, is scheduled to preside over the US House of Representatives.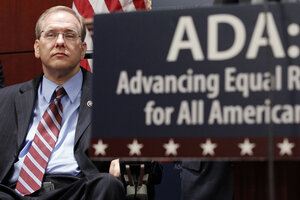 AP Photo/Alex Brandon
Rep. Jim Langevin, a quadriplegic, will preside over the House for the first time, a milestone that coincides with the 20th anniversary of the Americans with Disabilities Act.
The Rhode Island Democrat will use a newly installed mechanical lift system on Monday to gain access to the speaker's rostrum.
Langevin has used a wheelchair since being paralyzed in a shooting accident as a teenager. He was elected in 2000.
Langevin said presiding over the House marks an important step for people with disabilities and he hopes it inspires others.
Langevin also plans to join President Obama at the White House for ceremonies marking the Americans with Disabilities Act , which is aimed at preventing discrimination against people with physical or mental disabilities.
Related:
Mount Vernon to become more welcoming for the disabled