Hurricane Frank spins away from Mexico west coast
Hurricane Frank formed in the Pacific Wednesday off the southwestern coast of Mexico but was headed out to sea, the National Hurricane Center said.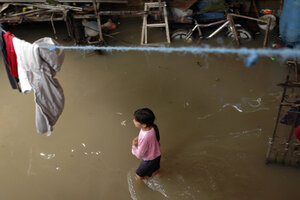 Doriam Morales/Reuters
Sustained wind speeds reached 75 mph and the storm could strengthen in the next two days. However, it was not seen posing any threat to land, the storm center said.
Mexico, which has many oil platforms in the Gulf of Mexico, does not have oil operations in the path of the storm.
Frank, the third Pacific hurricane of the season, is expected to swing west, northwest of Baja California through the weekend.
At 1400 PDT/2100 GMT, Hurricane Frank was about 240 miles south of Cabos Corrientes, which is near the beach resort of Puerto Vallarta.
The storm has left at least three people dead in the southern Mexican state of Oaxaca.