SpaceX addresses hitch that could have put mission to space station in doubt
Friday's launch represents the second formal resupply flight that SpaceX has undertaken under a $1.6 billion contract with NASA to ferry goods to and from the International Space Station.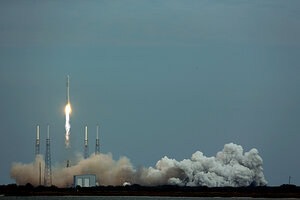 John Raoux/AP
A US cargo mission to the International Space Station has been placed safely on orbit, and after several hours of trouble-shooting, engineers appear to have gotten on top of a problem that could have put the rest of the mission in doubt.
At 10:10 a.m., Eastern time, a Falcon 9 rocket and its Dragon cargo capsule launched from its pad at the Cape Canaveral Air Force Station in Florida.
Built and operated by Space Exploration Technologies Corp. (SpaceX) in Hawthorne, Calif., the Falcon 9's launch appeared to go flawlessly – a welcome sign after one of the first stage's nine motors shut down prematurely during the company's first commercial launch last October.
The rocket delivered Dragon to its proper orbit, as planned. But shortly after the Dragon capsule separated from the rocket's second stage Friday morning, mission controllers reported that the flight-control system had prevented three of the capsule's four thruster pods from activating. The thrusters allow controllers to adjust the capsule's orbit, maneuver at the space station, and slow and orient the capsule properly for reentry.
The problem appears to have been traced to a balky oxidizer valve or clogged line. Initially, only one pod was functional. The craft needs at least two to put it on a trajectory to reach the space station.
By late afternoon, Elon Musk, the company's founder and chief technology officer, said that all four pods were working and that controllers were preparing to raise Dragon's orbit as it heads for the space station.
Initially, plans called for a rendezvous Saturday morning at 6:30, Eastern time. Now, that has been postponed, although NASA and SpaceX officials say the capsule could reach the station Sunday.
Friday's launch represents the second formal resupply flight that the company has undertaken under a 12-mission, $1.6 billion contract with the National Aeronautics and Space Administration to ferry goods to and from the space station. But it's also the third trip a Falcon 9-Dragon duo has made to the orbiting outpost.
In May 2012, the company launched its first and only demonstration mission to the station, carrying a light load of cargo that at the time NASA said it could stand to lose if something went wrong.
Each mission in its own way has thrown something unexpected at mission controllers, suggesting that the successes so far haven't come without teething issues.
Perhaps the most dramatic so far was the premature shutdown of one engine last October.
The rocket is designed to deliver its payload to orbit if an engine fails, noted company president Gwynne Shotwell during a press briefing ahead of Friday's launch.
"You don't want it to happen. But the fact that the vehicle did exactly what it was supposed to do was impressive," especially to the insurers, she said.
The October mission also endured the shutdown of one of Dragon's three flight-control computers. And after splashdown, enough water leaked into the service section, aft of the crew section, to cut off power to a freezer designed to return lab samples from the space station. Fortunately, no samples were lost, noted Michael Suffredini, who runs NASA's space-station program.
Since then, technicians have worked to more effectively plug the nooks and crannies that allowed water to seep into the service section's electrical system.
Indeed, this ability to bring cargo back to Earth is unique among the Russian, European, and Japanese resupply craft also servicing the space station.
On this mission, Dragon is carrying some 2,300 pounds of cargo up and is slated to return with slightly more than 3,000 pounds.
Whereas in October, the crew was treated to fresh ice cream hauled up in the lab freezer, this time they will receive a package that's a bit healthier, Ms. Shotwell says, adding, "It came from one of our employee's father's orchards."
[Editor's note: This story was revised at 5 p.m., March 1, to reflect updates about the thruster pods.]