Giant egg for sale: Massive egg was laid by now-extinct giant bird
The giant egg available for sale was laid by a now-extinct giant bird that resembled an 11-foot tall ostrich. The egg is about 100 times the size of an average chicken's.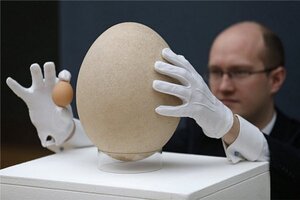 Suzanne Plunkett / Reuters
The giant egg for sale is a foot long, nearly nine inches in diameter, and would once have made a really, really, big omelet.
A London auction house is hoping buyers will be scrambling to take a crack at this natural wonder, a massive fossilized egg laid long ago on the island of Madagascar by a now-extinct elephant bird.
Christie's said Wednesday that the oversized ovum — laid sometime before elephant birds were wiped out several hundred years ago — is expected to sell for up to 30,000 pounds (roughly $45,000).
Flightless, fruit-gobbling elephant birds resembled giant ostriches and could grow to be 11 feet high (3.4 meters). Christie's says their eggs are 100 times the size of an average chicken's.
The egg is being sold during a travel and science sale on April 24.