Despite severe poaching, hopeful signs on World Elephant Day
World Elephant Day, established in 2012, helps spread awareness on the existential threat elephants face from poachers and trafficking groups.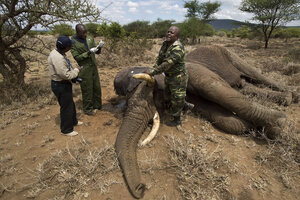 Ben Curtis/AP/File
In light of World Elephant Day, conservationists are fighting to raise awareness and stop the slaughter of one of the world's largest mammals, as more governments join the herd and ban elephant-made products.
The animals are dying at a rate of 35,000 a year due to the lucrative growing market for ivory-coated trinkets, which are made from the elephants' majestic tusks and teeth. Criminal cartels export the luxury good – worth more than $1,000 a pound – by illegally gunning down the plant-eating pachyderms and then bribing border guards and police, says the United Nations Environmental Program. Wildlife trafficking is worth $7-$10 billion annually.
The population of endangered Asian elephants has dipped below 40,000 while their threatened African peers total 400,000, a decrease of 76 percent since 1980.
Despite the declining numbers, a network of conservation groups – including the Wildlife Conservation Society, the World Wildlife Fund, the African Wildlife Foundation, and the International Fund for Animal Welfare – have linked arms to collaborate with African nations and fight trafficking groups.
What's behind the vast multinational and NGO efforts? Terrorism.
"The growing awareness that wildlife trafficking is becoming an international security issue—one connected to terrorism—mean that more resources will be devoted to fighting it," reports Time. "There's evidence that militant groups like al-Shabaab, the al-Qaeda-backed Somali terrorist group responsible for the devastating attack on a Nairobi shopping mall last week, are funded partially by the illegal wildlife trade."
As part of the stronger response, the World Elephant holiday – established in 2012 – helps spread awareness on the existential threat elephants face from poaching massacres. Coupled with the expansion of national parks and sanctuaries – where elephants frolic, graze and thrive – proposed measures offer hope for saving the endangered animal.
A number of governments have now jumped on the ivory bandwagon. The United States has previously destroyed tons of confiscated ivory, wrecking it to dust in order to pressure other countries to enforce international laws protecting the animal. In terms of a nationwide ban, the US is strengthening legal statutes, reports News Observer.
The US Fish & Wildlife Service is developing rules that would stop virtually all commercial trade in elephant ivory and rhinoceros horn in the United States, including the commercial import of African elephant ivory.
And in Kenya, conservationists are fighting back by petitioning for the arrest of Feizal Ali Mohamed, a businessman evading an earlier warrant for an ivory seizure, reported The Associated Press. Despite meting out harsh punishments – life-in-prison – Kenya has yet to squelch the illicit trade in elephants' ivory, meat, and body parts.
Aside from poaching, other problems include captivity – home to 1 in 3 elephants – a habitat that has been proven to "significantly degrade their quality of life, both in terms of longevity and mental health," reports Mother Nature Network. And a loss of forested vegetation due to human settlement and climate change has added stress to the previously resilient animal.
In light of the many pressure factors, environmental group WCS has a launched a publicity campaign to save the animal, 96 Elephants, named after the number of elephants killed daily. The initiative plans to photograph and film elephants in Kenya, then disseminate the images worldwide.
As one photographer working on the campaign told National Geographic:
"I see toddlers and teenagers with the tiny tusks. I had seen tusks of this size lined up on the pallets to be pulverized at the crush. They outnumbered the larger ones – a sign that poachers are now killing the youngest of elephants. Their ivory is all that remains to be taken."
One of the so-called Big Five, or the most popular game animals, elephants intrigue us as they graze in wild habitat or roam in zoos, says Graydon Carter, editor of Vanity Fair.
"We admire elephants in part because they demonstrate what we consider the finest human traits: empathy, self-awareness, and social intelligence," said Mr. Carter. "But the way we treat them puts on display the very worst of human behavior."