Iceland's Bardarbunga volcano has been shaking for more than a week. Will it erupt?
Bardarbunga has been rumbling lately, prompting at least one apparently false report of a subglacial eruption and a brief ban on flights over the Icelandic volcano.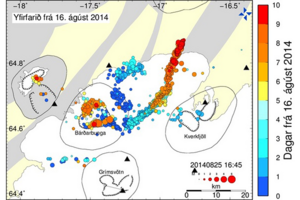 Icelandic Met Office
Buried beneath hundreds of feet of ice, Iceland's Bardarbunga volcano has been shaking for more than a week now, but an eruption has yet to occur.
On Saturday (Aug. 23), the Icelandic Meteorological Office reported that a subglacial eruption had been detected at Bardarbunga. Fearing that lava might melt through the thick ice cap and that ash would spew into the sky, officials raised Iceland's aviation alert to red (the highest level), and barred aircraft from flying over the site of the volcano.
But on Sunday (Aug. 24), the Met Office announced that its initial interpretations had been incorrect; there was no subglacial blast nor was there an imminent eruption, and the alert was lowered back down to orange. [See photos of Iceland's booming Bardarbunga volcano]
While an eruption has yet to occur, there are no signs that the rumbling under the volcano is stopping.
Sunday night, at 8:39 p.m. local time (4:39 p.m. EDT), the U.S. Geological Survey recorded a 5.3-magnitude earthquake — among the strongest tremors to hit the region since the intense earthquake swarm suddenly started on Aug. 16. On Monday (Aug. 25), the Icelandic Meteorological Office had detected 700 seismic events since midnight. Another 5.0-magnitude quake struck Monday afternoon at 4:19 p.m. local time (12:19 p.m. EDT).
Bardarbunga lies underneath the northwest part of the huge Vatnajökull ice cap. Scientists have detected a long, lava-filled dike in the earth under the Dyngjujökull glacier, one of the glaciers that flows out of Vatnajökull. According to the Met Office's latest update, the fissure is thought to be nearly 22 miles (35 kilometers) long, and may contain about 300 million cubic meters (10.6 billion cubic feet) of magma.
The Met Office outlined the three most likely scenarios that will play out at Bardarbunga in the coming days. One possibility is that the magma could stop pushing to the surface and the seismic activity will eventually fizzle. Or, the magma could punch through the surface of the crust, starting an eruption, with lava flows and some ash. A third possibility is that the dike could break through the crust and melt a significant part of the glacier, causing floods along the Jökulsá á Fjöllum, a river that flows into northern Iceland from the ice cap. In anticipation of possible outburst floods, Icelandic officials evacuated tourists from areas downstream of the glacier last week.
Travelers may be eyeing the seismic unrest at Bardarbunga with anxiety, especially after the ash-spewingEyjafjallajökull eruption of 2010 brought air travel to a halt over a large swath of Europe for days. But after the Eyjafjallajökull blast, models of ash plumes have improved, and airline policies have been relaxed to allow planes to fly through limited levels of volcanic ash, rather than enacting sweeping flight bans.
Follow Megan Gannon on Twitter and Google+. Follow us @livescience, Facebook & Google+. Original article on Live Science.
Copyright 2014 LiveScience, a TechMediaNetwork company. All rights reserved. This material may not be published, broadcast, rewritten or redistributed.