The Big Melt: Why 2015 could be another low-ice year in the Arctic
An image captured aboard NASA's Aqua satellite shows large chunks of melting sea ice.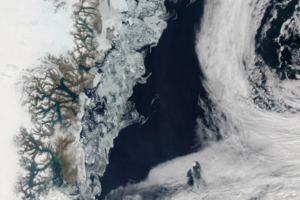 Jeff Schmaltz/NASA/MODIS Land Rapid Response Team
Based on observations from satellites, 2015 is on track to be another low year for ice cover in Arctic summer seas, according to the National Aeronautics and Space Administration (NASA). 
This finding was underscored by an image of sea ice and melt water swirling off the coast of Greenland, captured from the space agency's Aqua satellite, and made public on Monday.
Large chunks of melting sea ice can be seen in the sea ice off the coast, and to the south spirals of ice have been shaped by the winds and currents that move across the Greenland Sea. Along the Greenland coast, cold, fresh melt water from the glaciers flows out to the sea, as do newly calved icebergs. Frigid air from interior Greenland pushes the ice away from the shoreline, and the mixing of cold water and air allows some sea ice to be sustained even at the height of summer.
The past ten years have included nine of the lowest surface areas of ice on record, according to NASA. The space agency attributes diminishing levels of Arctic sea ice coverage to a rise in temperatures worldwide.
Though less Arctic sea ice melted in 2013 compared to 2012, the total for 2013 was the sixth lowest in the record of satellite data. That year continued a long-term downward trend of about 12 percent Arctic sea ice loss per decade since the late 1970s – a decline that accelerated after 2007, according to NASA's Earth Observatory. The Arctic is particularly sensitive to changes in temperature. NASA scientists say it is two to three times more sensitive than the Earth as a whole.
In July, NASA announced it had discovered Greenland's glaciers are sunk much deeper below sea level than previously measured, allowing ocean water to "badly undercut the glacier faces". That process will raise sea levels around the world much faster than currently estimated, according to a team of researchers led by Eric Rignot of the University of California, Irvine, and NASA's Jet Propulsion Laboratory in Pasadena, California.
The study, published in Geophysical Research Letters, was a culmination of three summers in which "researchers battled rough waters and an onslaught of icebergs" in pursuit of the first-ever measurements of Greenland's glaciers.
"Measurements are challenging to obtain beneath hundreds of meters of seawater in poorly charted, ice-infested fjords," Rignot wrote. He and his co-authors obtained and analyzed "around-the-clock" measurements of the depth, salinity and temperature of channel waters, and the intersection of those data points with the coastal edge of Greenland's ice sheet.
The team found some glaciers were protected from "punishing" salt water from positions on large earthen sills, while others were being "severely eroded out of sight beneath the surface"; such glaciers could collapse and melt much sooner, according to NASA. Previous ice sheet models, which relied on the inaccurate measurements, "do not take into account these interactions and as a result underestimate how fast the glaciers will respond to climate warming," said Rignot.
The Aqua spacecraft that captured the image of Greenland's ice melt is part of a mission by NASA to contribute to the US Global Change Research Program. A rendering by National Geographic of ice melt in the Arctic observed by satellites over the last 15 years is available here.