Stranger than fiction: These ants look like the dragons in 'Game of Thrones'
Two new ant species have been named after the 'Game of Thrones' dragons. And their resemblance could challenge scientist's assumptions about spiny ants.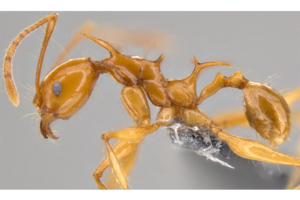 Courtesy of Okinawa Institute of Science and Technology
Sometimes reality is more imaginative than fiction. 
Itty-bitty versions of two of Daenerys Targaryen's dragons actually exist outside of the "Game of Thrones" TV series in a more mundane form: They're ants.
With spikes poking up from their backs, the scientists thought the insects resembled the TV dragons, so the two new species have been dubbed Pheidole drogon and Pheidole viserion in a paper published Wednesday in the journal PLOS ONE. 
But these spines aren't just dragon-like. What's inside them might dramatically change what scientists think they're for.
"The common assumption is that the spines are for defense against predation," study author Eli Sarnat tells The Christian Science Monitor in a phone interview. The idea is that the ant's sharp, sometimes curved spines can get hooked in the throats of birds, frogs, or other reptiles trying to snack on the morsels.
But Dr. Sarnat had another idea.
Worker ants in the genus Pheidole fall into two sorts of 'castes': Major and minor workers. The minor workers have the proportions of an average ant, but the major workers have disproportionately large heads. And these humongous heads are important, because they support large mandibles – jaws – that help the major workers break up challenging food resources to share among the colony.
So Sarnat and his colleagues thought "perhaps the spines on the shoulders evolved in the majors to [make space for] more muscles that could be used to help support these oversized heads." 
To test their hypothesis, the team used micro CT (micro computed tomography or "micro-CT" is X-ray imaging in 3D) to scan the ants to peek at the internal structure of their bodies without having to dissect them. From the scans, they made a three-dimensional model of the ants to take a closer look.
If there was muscle tissue in all the spines on both the major and minor workers, the researchers would have no evidence to support their novel idea. To back their theory, they needed the tissue to appear only in the spines on the shoulders of the major workers.
Sure enough, the scans revealed muscle tissue in just the shoulder spines of the major workers.
That doesn't mean that the spines aren't valuable defense mechanisms today, Sarnat says. "Certainly it seems that over time these spines did develop to help against predation, but it could've been a scenario where they first evolved as adaptations for head support and then once they existed, they got kind of co-opted for defense against predators."
"We're only just beginning to understand the complex relationships between form and function in insect evolution, and this study definitely advances our efforts," James Waters, a biologist at Providence College who was not involved in the study, tells the Monitor in an email.
"The micro CT scanning enabled the authors to test a controversial new idea that the incredible shapes of the spikes on these ants have evolved for biomechanical support of their behaviors," Dr. Waters adds. And perhaps the technology could also be applied to help scientists reconstruct evolutionary relationships among species in a new way. By using micro CT scanning, he suggests, researchers could examine the evolutionary relationships between different creatures based on their anatomies' functions, not just their forms.
Taxonomical superfans
When it came time to name the two new species, Sarnat turned to his wife for some help. The two of them looked up Latin words that might fit and she initially suggested a name that meant something like "split thorns," he says, which fit the appearance of some of the branching spines atop the ants.
But when Sarnat took the name to his colleagues, they thought such weird looking ants deserved "a more standout name," he says.
That's when Evan Economo, another member of the research team, "who is deep into the Game of Thrones series," Sarnat says, suggested naming one of the ants "drogon." Sarnat says he thinks it was partially a joke, but they realized it fit well as the species is jet black and, if you look at it in profile, some of the spines resemble a wing and the shoulder spines look somewhat like a claw.
And, he says, they realized that "if the black one is drogon, then the gold one has to be viserion" because of the coloration of the two fictional dragons, Drogon and Viserion.
"Since we are all big fans of the books and the series, we thought it'd be a fitting tribute," Dr. Economo tells the Monitor in an email. 
But what about Sarnat's wife?
"My wife was a little disgruntled that her name got dismissed, but hopefully she'll forgive me," he says.
Wild diversity in the palm of your hand
There are about 15,000 different ant species worldwide, Economo says, and 1,100 of those species are members of the genus Pheidole. But these are "oddballs" within that genus that crops up all over the world. "None have spines this elaborate or complex," he says.
Economo says "finding new species is a routine matter for us, because tropical regions like New Guinea are teeming with unknown and undescribed species." But that doesn't mean the discovery is insignificant.
"It's estimated that we've only discovered a small fraction of the different kinds of life on Earth, so every new species we identify and describe is a huge benefit to humanity," Waters says. "Natural history is all about understanding who our neighbors are, what they're doing, and how everything fits together, it's an incredibly important set of questions, and it's something we can all do just by taking a look at the ants, birds, and the great diversity of life crawling on the sidewalk or living in our backyards."
Sarnat says it's easy to take for granted examples of the diversity of life in the world, especially when it's as small as an ant. 
But discovering these new, strange, spiny ants "just goes to show that the reality, the world that we're living in is infinitely more interesting than any science fiction story or any 'Game of Thrones' character."