Who will be first astronauts to blast off in commercial shuttle?
NASA hopes to launch the first manned commercial space flight by 2017.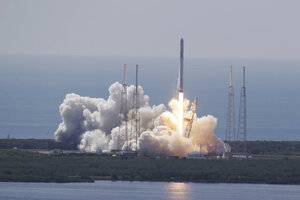 John Raoux/AP
NASA has selected four astronauts to boldly go where no NASA astronaut has gone before.
Veteran astronauts Robert Behnken, Sunita Williams, Eric Boe, and Douglas Hurley will be the first NASA astronauts to travel on commercial space capsules, NASA Administrator Charles Bolden announced Thursday.
The aim is to send the four on capsules built by Elon Musk's SpaceX and Boeing sometime in 2017.
All the selected astronauts have test pilot experience and have spent extensive time in space.
NASA retired its space shuttles in 2011 and has since relied on Russian vessels to transport US astronauts to the space station. In September, the space agency entered into a $6.8 billion contract with SpaceX and Boeing to take over the role of NASA's space taxi, as the Monitor's Noelle Swan reported.
There are over 350 American companies working across 36 states on NASA's commercial crew initiative, Mr. Bolden said Thursday.
"Every dollar we invest in commercial crew is a dollar we invest in ourselves, rather than in the Russian economy," he noted. "It currently costs $76 million per astronaut to fly on a Russian spacecraft.  On an American-owned spacecraft, the average cost will be $58 million per astronaut."
The commercial space flights is a step further toward the NASA's Mars mission. As part of the mission, the goal is to send American astronauts to the Red Planet in 2030.