Apple event brings MacBook Air, OS X Lion, and FaceTime for Mac
At its Oct. 20 event, Apple rolled out two new MacBook Air laptops, a slew of updates for its iLife suite, and a sneak peak at the next OS X upgrade, Lion.
This new coat of polish for Apple's computer line comes at a time of rapid growth for the Mac. In the last few years, Apple has transitioned from a computer company that made mobile devices to a mobile-device company that makes computers. Last quarter, Apple shipped 14.1 million iPhones, 4.1 million iPads, and just 3.89 million Macs. Still, Mac sales have grown 2.5 times faster than the rest of the PC industry, according to the company.
Wednesday's event tried to reassure Mac fans that the company stands firmly behind its computers, and convince mobile converts that many of the things they love about iPhones and iPad will soon appear in computers. Click the blue arrows to learn how.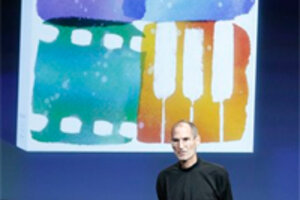 Tony Avelar/AP
iLife '11

Apple's core software pack, iLife, got a series of small improvements – most aiming to make the programs more project oriented.

As part of iLife '11, iPhoto offers new options for slideshows and customized photo-postcards, iMovie packs in more editing techniques and pre-packaged movie trailer templates, and Garage Band helps synchronize offbeat band mates. These options have been available through other software for years. But Apple has streamlined everything, reducing time, effort, and ultimately choice. In the end, the new projects target a certain Goldie Locks consumer – someone skilled enough to take good photos or quality video, but not interested in mastering professional software.

The Apple photo program will also include closer connections with Facebook. As friends comment on pictures published on the popular social network, Apple will gather those notes and display them in iPhoto. Images may also be displayed in "full-screen view," a theme through Apple's announcements today.

The iLife suite will come installed on all new Macs. Older computers can purchase iLife '11 for $49.