Five surprising facts from the new Steve Jobs biography
Steve Jobs, the man who put the "i" in technology, was a fascinating character who continues to inspire and confound. Why the black turtlenecks? How did he foresee (create?) the iPhone revolution? What was the secret to his presentation style?
Walter Isaacson's new book "Steve Jobs," which just hit stores, attempts to answer these questions. The 571-page biography released on Oct. 24 to glowing reviews. The author conducted more than 100 interviews for the book – including more than 40 with the Apple CEO himself.
Here are five of key excerpts.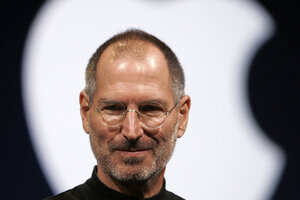 Paul Sakuma/AP/File
1.

The story behind Apple's name

Most tech companies adopt curious names – Netflix, Flickr, Microsoft, Bitly. Some choose names for their futuristic sound; others drop vowels in order to secure cheap Web addresses. Either way, few embrace the extreme simplicity of a moniker like Apple.

Steve Jobs and co-founder Steve Wozniak almost went with "Executek."

Isaacson writes that "the Steves" had that Hollywood-villain-sounding name on their short list. Executek, which is actually now the name of a different tech firm, was passed over, of course, along with "Matrix Electronics" and "Personal Computers Inc."

So, why Apple?

Before the company took off, Jobs would visit the commune-style All-One Farm in Oregon for months at a time. The name came to him during one of his stays there.

"I was on one of my fruitarian diets," he told Isaacson. "I had just come back from the apple farm. It sounded fun, spirited, and not intimidating. Apple took the edge off the word 'computer.' "