10 most intriguing tablets of 2012
This time last year, one tablet ruled them all. The Apple iPad sent tablet sales skyrocketing, leading them to outsell laptops and to became the second largest consumer electronics category, behind only phones. But many joked that there is no "tablet market." There's just an "iPad market." By this time next year, that may no longer be true.
Sure, the iPad makes up 57.6 percent of tablet sales, according to research firm Strategy Analytics. But that slice is shrinking. And with an impressive list of Android and Windows 8 competitors on the horizon, Apple may watch its share of the pie dwindle further.
Interested in picking up a tablet this year? Here are the 10 tablets to watch in 2012.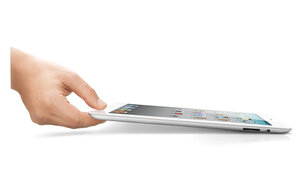 Apple
1.

Apple iPad 3

The iPad is the prom queen of tablets – everyone wants to be as beautiful, stylish, and coveted as her. So it's not surprising that there's a ton of gossip devoted to the announcement of an iPad 3, expected to come out in March.

Not much is known about the iPad 3. As usual, Apple's lips are sealed. That hasn't kept analysts, supply-chain reporters, and enterprising bloggers from playing the speculation game. If you believed the rumors, the most obvious improvement from the iPad 2 to the iPad 3 will be the "retina display," which would double the screen resolution for crystal-clear images and video. The Boy Genius Report (which has a pretty good record with rumors) obtained photos that point to a new processor that would make the iPad 3 run as fast as some desktop computers. It's also expected that the new Apple tablet will have a much better camera than the current model. (The iPad 2 has two rather crummy cameras, including a front-facing one that's less than one megapixel.)

Bolder predictions hypothesize that Apple will throw in blazing-fast 4G wireless Internet, sell a cheaper version of the iPad 2 for budget shoppers, and maybe introduce a 7-inch tablet that would be half the size of previous iPads. That said, despite these grand prognostications, many experts theorize that Apple won't make too many significant changes. Don't fix what ain't broke.

iPad 2

Screen size: 9.7"

Price: $499 to $829, depending on storage and 3G connection

Connectivity: 3G and Wi-Fi

Available: Now

iPad 3

Available: March (expected)