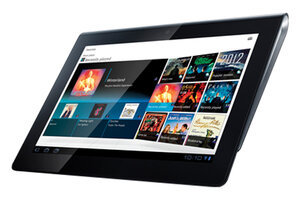 Sony
7.

Sony Tablet P and Tablet S

While tablets are all starting to look the same, the Sony Tablet P and S stand out. The Sony team has taken a gamble with the Tablet S, which resembles a folded magazine (in hopes of making it more comfortable to hold in one hand).

The Tablet P is even more unique – it folds in half like a clam. Sony's "foldable touch screen tablet" has two 5.5-inch screens. Small enough to fit in a jacket pocket, the Sony Tablet P (previous called the S2) will have access to thousands of apps on the Android Market, front and rear cameras, and a 4G antenna.

Plus, the Android tablets come with PlayStation software – what more could Crash Bandicoot fans ask for? Tablet P and S are both PlayStation certified devices, meaning they can play some classic from PlayStation 1. It'll be a while before Sony tablets can support the newer games, but it's only 2012.

Tablet P

Screen size: two 5.5" screens

Price: $599

Networks: Wi-Fi, 4G

Release date: 2012

The hook: Unique design makes it more portable.

Tablet S

Screen size: 9.4"

Price: $499 to 599

Networks: Wi-Fi

Available: Now

The hook: Unique design makes it easy to hold.