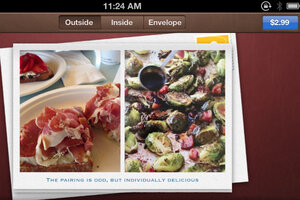 3.

Cards

Cards is an app that combines the convenience of e-mail with the quaintness of old-fashioned snail mail.

Created by Apple, Cards lets you design and send greeting cards to anyone in the world without putting your phone down or licking a stamp.

Users can select from an assortment of themed or generic card templates, add customized text and a photo, and Apple will print out the design using a combination of letterpress and digital printing technology onto premium cardstock.

They'll even put a stamp – a real, needs-to-be-licked stamp – on the envelope.

The service costs $2.99 for domestic recipients and $4.99 to send the letter abroad.