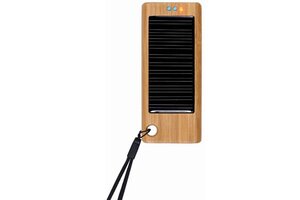 Triple C Designs
2.

iSolar Backup Battery Charger

The iSolar Backup Battery Charger lets people charge their mobile devices, not to mention acting as an extra power source for those constantly on the go.

A three-hour charge under the sun powers the pocket-size bamboo charger enough to boost your device's power by 40 percent (a six-hour charge in direct sunlight can fully charge most portable devices, according to the company). It also offers a USB adapter to charge the backup with battery power on rainy days.

The iSolar Backup Battery Charger is part of the green collection by Triple C Designs.

"There are plenty of times that your battery is dead," says Mercedes Smith, the account manager for Triple C Designs in New York. "The beauty of it is that you can stay charged via solar light."

A backup charger may have more appeal out of convenience than out of environmental consciousness, but it makes a difference in the long run. Instead of running to a café or public area with an outlet in those critical moments when a mobile device coincidentally dies, people can take advantage of this easy-to-use power source.

The charger works for phones, e-readers, tablets, and digital cameras, among other devices.

It is available on Uncommon Goods and Photojojo and will soon be available in Nordstrom.