Ahead of WWDC, Apple updates its iMac and 15-inch MacBook Pro
Apple announced an updated 15-inch Retina MacBook Pro with faster flash storage and a Force Touch trackpad. Apple also refreshed its Retina 5K iMacs, introducing a new model and dropping the price on the existing model.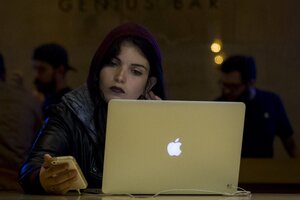 Brendan McDermid/Reuters/File
The rumors said that Apple would reveal an updated MacBook Pro at the Worldwide Developers Conference (WWDC) next month. But Apple isn't waiting that long. On Tuesday, the company announced an update to its 15-inch Retina MacBook Pro, which now has a few new features that bring it in line with the new 13-inch MacBook Pro, the MacBook Air, and the new MacBook.
Probably the biggest change is the inclusion of a Force Touch trackpad on the 15-inch MacBook Pro. First introduced on the MacBook in March, the Force Touch trackpad uses subtle vibrations to simulate the feel of a click, rather than incorporating a physical clicking mechanism. That allows the trackpad to fit into a slimmer laptop body. The Force Touch trackpad can also distinguish different pressure levels and respond differently depending on how forcefully you press it.
A recent rumor reported by The Wall Street Journal said that Force Touch technology would likely appear in the new iPhones expected to be released this fall.
The new MacBook Pro is also getting upgrades to its memory and processor speeds. The laptop now has a better AMD Radeon graphics processor for faster rendering in video-editing programs, and faster flash-memory storage. Apple said in a statement that the new MacBook Pro also gets nine hours of usable battery life, compared to eight hours on the model it replaces.
The MacBook Pro still looks about the same as it has since 2012 – the company didn't make any major revisions to the computer's design. And although the computer does have faster flash storage, it doesn't incorporate Intel's new Broadwell processors, meaning that the MacBook Pro's base performance probably won't be markedly better than that of the earlier model.
Apple also made some small improvements to its iMac line of desktop computers. The newest entry-level "Retina 5K" iMac incorporates a 27-inch screen, 3.3 GHz processor, and a one-terabyte hard drive. That iMac will cost a dollar under $2,000. Meanwhile, Apple dropped the price of the higher-end Retina iMac from $2,500 to $2,300. That model includes a one-terabyte "fusion" drive, which is a combination of a high-capacity spinning hard drive and a faster solid-state flash drive. It also includes a 3.5 GHz processor.
Both iMac models have a super-high-resolution display of 5,120 by 2,880 pixels – 50 percent fewer pixels per inch than the iPhone 6, but across a 27-inch screen rather than the 5-inch screen you'd find in a modern smart phone.