Apple launches new MacBook Pro and iMac, cuts price for iMacs
Apple introduces updated, faster MacBooks and iMacs while lowering the price for iMacs.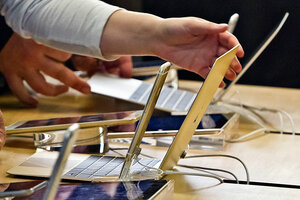 Apple is introducing an updated MacBook Pro and iMac and lowering the price for its top-end iMac.
The updated 15-inch MacBook Pro laptop has a new style of trackpad, faster flash storage and a longer battery life and starts at $1,999.
The new $1,999 iMac desktop computer has a higher-resolution 27-inch screen and faster processor.
Apple's top-end iMac will now sell for $2,299. It has been selling for $2,499 at some retail outlets.
The news comes ahead of Apple's worldwide developers conference June 8.
Copyright 2015 The Associated Press. All rights reserved. This material may not be published, broadcast, rewritten or redistributed.